Over thirty years and 60+ countries later I'm still hooked on travel.
I'm an active, 50-something family guy living in Stockholm, Sweden.
From an early age I loved maps, flags and geography. I read anything I could on nature, exploration and archaeology and once I'd finished university there was only one thing I wanted to do. You guessed it – travel!
I bought a ticket to Australia, returning reluctantly to the UK when my 6-month visa expired. I guess it was my backpacking around Australia that really fuelled my wanderlust because once I'd worked and saved up enough money I hopped on a plane to Mexico City. What followed was an amazing year travelling overland through Central and South America to Tierra del Fuego and right back up the continent exploring the Amazon and Orinoco en route to the Caribbean and Caracas.
From then on any thought of a normal career was over and my love affair with Latin America was just beginning. On my return to London I answered an advert from Journey Latin America who were looking for tour guides. What followed was a wonderful 5 years of splitting my time between guiding and as the company's tours manager based in London.  By the late 80's I was ready for a change and moved to Belize where I fell in love with the country and with my wife Diana. Our two girls were born in Stockholm but spent their younger years in Belize as dad managed luxury lodges and lead crazy jungle expeditions. We later moved to Alabama in the USA where I worked as Director for Latin America Development at International Expeditions Inc. 'the World Leader in Nature Travel'.
Over thirty years and 60+ countries later I'm still hooked on travel.
I'm a Board Member of the Adventure Travel Conservation Fund / ATCF; I've been a judge and inspector for the World Travel & Tourism Council's Tourism for Tomorrow Awards; and I've been the Chair of the Destination's Working Group at the Global Sustainable Tourism Council / GSTC.
My mission as a tourism consultant is to inspire others to focus on niche rather than mass, to choose yield over volume and to turn travel experiences into conservation opportunities.
I'm a champion of local, craft and seasonal with a love of nature, adventure and exploration.
If you're looking for a consultant with a global perspective, bags of industry experience and a strong record for mentoring SMEs, NGOs and regional DMCs then I might just be your man!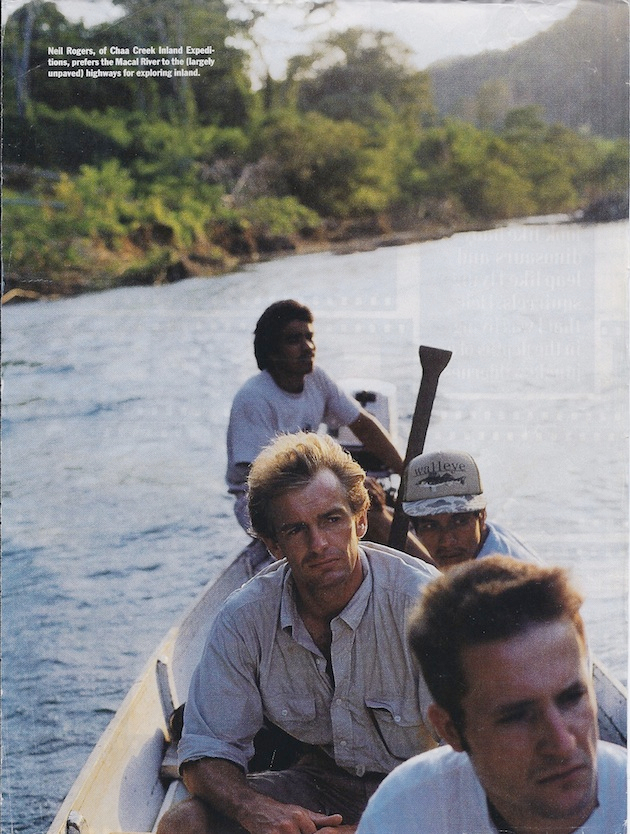 Neil Rogers, Macal River, Belize circa 1990.
Image: Brigitte Lacombe for Conde Nast Traveler.